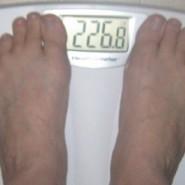 Yesterday was just a normal run of the mill day. Played in the sunshine with the kids and my new friend and her baby. Energy levels were excellent. Hunger was non-existent.
In fact, I am having a hard time getting "all" the food I am supposed to eat eaten.
Today is the first day I am going to venture out into the real world. I avoided this until now because the first time I did on day two, I almost cracked by seeing all the things I couldn't have. Today, I am stronger though! Gonna go see what I have missed in the last 10 days… lol…
Related HCG Posts:
Free "Pounds & Inches" Manuscript!

Get a copy of Dr. Simeons Pounds & Inches Manuscript, FREE!
| | |
| --- | --- |
| | We hate spam just as much as you |